Discover 10 secrets about saving that money you didn't know existed 
---
Okay, Mama, I think it's safe to say, we could all learn to save dat money, more efficiently. Yes, I said "dat." Taking a page out of rapper Lil Dicky (don't go there) hit song featuring Mr. Fetty Wap and Rich Homie Quan. Like this article, the song has valid points on why it's necessary to save those coins.
You're busy I get it -honestly who isn't?  But, minding your pockets is one of the most important things you can do for yourself, family and future generations to come. I know, you know I'm right 😉 Right
Continue reading below to learn helpful tips or just refresh what you probably already know about saving money.
1. 
Saving Money Secret: Budgeting
Budgeting — ooh, what a scary word!
If you want to frighten someone whose finances are out of control, suggest that they tally up their expenses on a piece of paper.
We all understand the value of such an exercise, but when it comes to the practicality of putting a budget together, we get cold feet. Budgeting doesn't have to be so painful when you have a systematic series of steps to follow.
Go Over Current Bills
Mistakes happen, and it seems as if they pop up on bills quite frequently. How closely do you read your statements, receipts, and bills?
Do you take the time to review the actual charges, or do you simply assume that the bill is correct?
Remember that when it comes to numbers, errors happen frequently.
It is estimated that consumers lose billions making unnecessary overpayments on accounts each year. For example, cell phone bills are notorious for being wrong.
Pro tip: Re-examine last year's taxes. If you have the time and gumption, there may have been a few deductions you may have missed. If they are large enough, the government may owe you money.
Double check your bills to see where you can save some money.
Track your Spending
Simply creating a budget that tracks all income and expenses. Your budget forecasts current and future spending. In addition, it helps you to gain greater control over your finances. Although there are many sophisticated budgeting worksheets available, I recommend starting simple.
You do not want to become overwhelmed or spend extra money developing a method you are unable to maintain. Instead, you may consider downloading an app online.
We use the free app Personal Capital to track our monthly spending.
Your account balances are updated in real time!
Personal Capital is the smart way to track and manage your financial life.  We absolutely love it, having all our accounts in one area. We're able to track our net worth and day-to-day budget needs.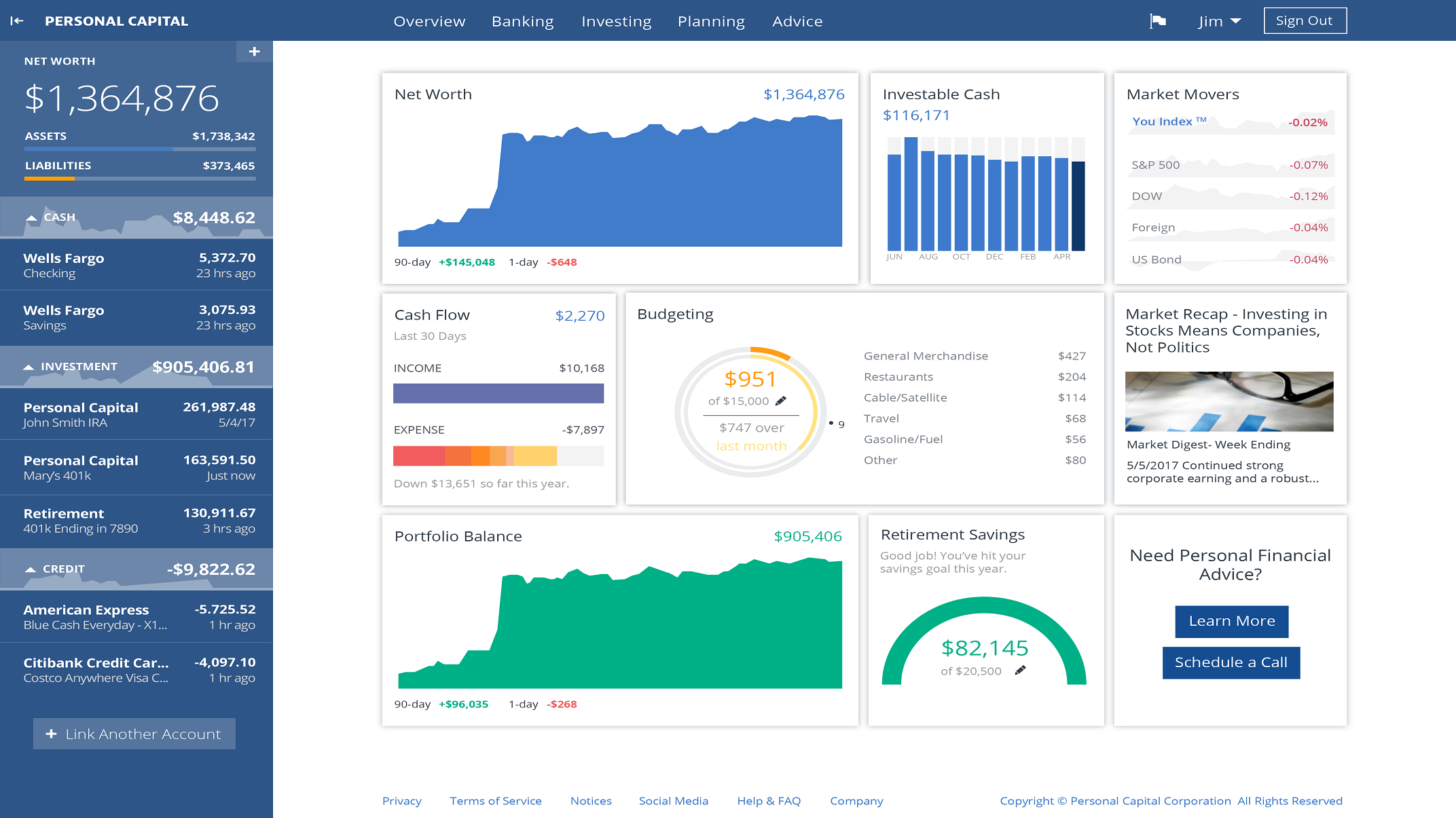 Pay Bills on Time
Do you enjoy giving creditors extra money? If you answered no, the best way to prove this is to pay your bills on time. When you pay bills late, you are penalized by paying a late fee.
On top of the interest, you might be paying if you're carrying a balance. Not only does this create a pattern for poor credit, but it also forces you to pay extra money.
A good rule of thumb is to pay bills before or on the date required. If you pay your credit card bill sooner than usual, you may be able to lower the interest you are charged on it.
This helps you to avoid late fees and moving you one step closer to financial freedom.
As with any other area of your life, it's pointless to start down a financial path if you don't you have some idea of where you want to end up. What is your REASON for creating a budget?
Related Reading: The Ultimate List of Financial Goals to Crush It in 2019
Dr. Maxwell Maltz speaks of the "success mechanism" within all humans that keeps us searching for ways to reach our targets or solve our problems. You may set a goal of 1, 3, 5, or 10% more or less of monthly disposable income.
Please be aware that at this point, the amount does not matter, but getting started does.
You might have noticed that money comes directly out of your paycheck before you even receive it, at least in the United States. The government understands the concept of "Pay Yourself First" (or paying itself first), by taking out taxes before you get your hands on your income.
However, this concept can also be used to your benefit, by applying it to saving money.
Most people go to work each day for 2 main reasons. One, they work to receive money to pay their bills. Two, they work to have money so they can spend it to enjoy themselves. (Notice that you didn't come in first place.)
Why is everyone else more deserving of your money than you?
Yeah, they're your creditors and you have an obligation to pay them. But what about the obligation you have to yourself? The concept behind paying yourself first is simple: save money before giving it away.
If you don't pay yourself first, there will always be something that money could be spent on instead of saving it. There never seems to be a perfect time to start saving money, so you just have to jump in and do it.
4. Saving Money Secret: 

Build an Emergency Fund

Do you have any money set aside in a reserve fund in case there is an emergency in your life? Life happens (often), it's been advised to set aside $500 to $1,000 in your emergency fund.

Until you're able to set aside 3-6 months worth of living expenses. Oftentimes, setting up an emergency fund is considered a short-term financial goal, and a very important one.
Pro Tip: set aside 3 months of living expenses into emergency account
I recommend this as one of the most important financial goals to set and achieve. An emergency fund will provide you and your family with a  sense of security for life unpredicted moments.
When you run out of money each month and overspend your budget, there are only two things you can do to solve that problem. You can either find a way to make more money or find a way to reduce your expenses.
Unless you have a raise or a new job that pays more coming soon, the quickest and easiest solution is to figure out how to cut expenses.
6.
Saving Money Secret: 

Payoff Credit Cards & Get Out of Debt Completely

One of the biggest contributors to the 'hamster wheel of debt.'

New research,  found that people do not fully understand how long it would take them to settle their debt if they pay only the minimum payment a certain amount each month.

The study conducted by three researchers from Duke University was presented recently during the Conference on Consumer Financial Decision Making.

According to the experts, there's a trick to paying your credit card balance the correct way.  Paying only the minimum amount due each month is a big mistake.

Understand that when you pay a low amount, what you're paying will only go to the interest of your debt (if you're lucky). With high-interest rates and sometimes hidden fees credit cards and any debt really are a wrench to financial freedom.

Make it a point to get rid of them!
The best move to do then is to pay more than the minimum amount required to lower your balance moving forward. This is because when you pay more, a huge part of your payment is then applied to the principal balance instead of going to the interest.
7. 
Saving Money Secret: Make Extra Income
What a wonderful time to make extra income from home. It truly amazes me how much money can be made online. Many people don't know about the wonderful opportunities awaiting them out there.
Below – I've listed a few examples on how you too can join in and make some cool extra income online.
Start a Blog 
Blogging is a great way to make money on the internet. With consistency, and patience you can earn a decent income while working from anywhere!
My blog has allowed me to make money from home online. Allowing me to stay home with our children without causing financial stress to our family.
I've read so many success stories – I honestly believe (blogging) is a real way to make money from home.
If you are interested in starting a blog of your own, I created a tutorial that will help you start a blog of your own for cheap, starting at only $3.75 per month (this low price is only through my link) for blog hosting. In addition to the low pricing, you will receive a free website domain (a $15 value) through my Bluehost link if you purchase, at least, 12 months of blog hosting.
Rent out your free rooms/cottage
You can use companies/websites such as Airbnb.com to sign up for and advertise your home. Depending on the area you live in/ how much free room you have to rent, you could earn a nice sum of passive income a month.
Take Online Surveys 
Many companies will pay you to take online surveys. A simple Google search will take you to several reputable companies. You can make anywhere from $5 on up for each survey.
Even more extra income ideas:
8. 
Saving Money Secret:
9. 
Saving Money Secret: 
10. Saving Money Secret:
Bonus Avoid Temptation
Living your life as if you are a poor man will go a long way to saving you a lot of money. Notice that not all expensive things are the best.
There are so many temptations to spend your money. Try to stick to your set budget and avoid any unnecessary temptation that life has to offer.